This is a Sponsored post written by me on behalf of World Market. All opinions are 100% mine.
It's hard to believe with Mother's Day just wrapping up, but Father's Day is coming fast! I took the opportunity this past weekend to put together a little pre-Father's Day BBQ and Beer Tasting for my sweet husband as a way to celebrate all that he does for our little family. I'd love for you to check it out!
The Husband and the group of his best buddies have gotten into brewing their own craft beers over the past couple of years so I knew that I wanted to get him his own beer glasses and mugs. He's been drinking his beer out of our plastic cups, so it was high time he got the upgrade!
The kids and I set out to find Father's Day Gifts at World Market and see what we could find; World Market didn't disappoint. There was an entire section dedicated to Home Bar and Beer Tasting, plus another aisle stocked purely with craft beers. It was perfect for what we were looking for. In fact, there were so many choices, it was tough to narrow it down to what we ultimately purchased.
After our shopping excursion, it was time to get the BBQ and beer tasting underway! I set up a simple, but fancier than normal tablescape complete with a burlap runner and linens that we've had for a few years. Glass jars lined the center to keep things light and bright.
Each place setting was set with a brand spankin' new glass beer mug and a different craft beer along with these plates that I already had on hand from World Market.
I even added in some of the Husband's own home-brewed beer to the mix with the craft beers we purchased at World Market. Notice the unmarked bottle tops? Those are his. 🙂
The kids were insistent that we got their daddy this hamburger press from the BBQ & Grilling section for when he makes hamburgers, which at our home is usually pretty often. Luke and Reagan were absolutely thrilled to get to help form the burgers for the first time; they love being included!
Can I just rave for a second about how awesome a grill master my sweet husband is? Granted, I don't even know how to start the grill, but I think he does an amazing job.
Are you ready to start celebrating the special Dad in your life?
Cost Plus World Market is celebrating Father's Day this year with their Dad's Day Sweepstakes! Facebook Fans can enter for a chance to win one of 4 weekly Grand Prize Packages: $1,000 World Market Gift card you *plus* $1,000 World Market for your Dad!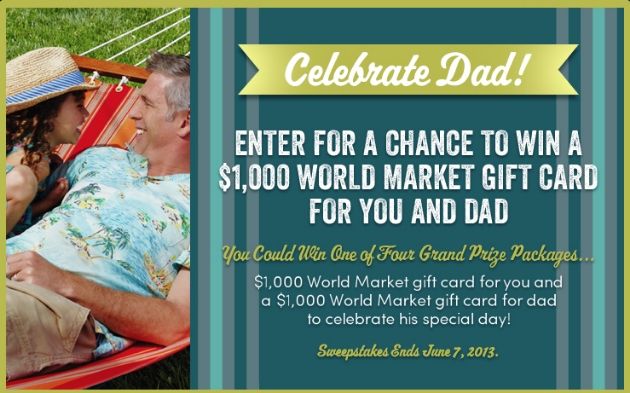 Pin It