This is a Sponsored post written by me on behalf of ZzzQuil. All opinions are 100% mine.
I'm a planner by nature.
I love planning events, activities for my children, my next blog post, meals for my family. The list seriously goes on and on. It goes on so much that I struggle trying to fall asleep at night. The Husband can vouch that I have serious issues trying to turn my brain off at night. I've tried reading books, playing solitaire on my phone, even trying to solve word searches.
I think I may have finally found the solution when nothing else gets the job done: ZzzQuil.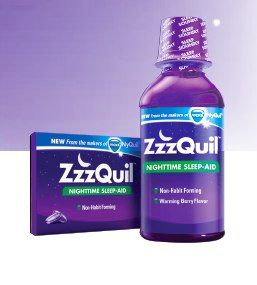 ZzzQuil is awesome because it was created to address occasional sleeplessness only. It's not for colds, it's not for pain, it's just for sleep. It's active ingredient, diphenhydramine HCl, helps to reduce the amount of time it takes for you to fall asleep. And because ZzzQuil is a Vick's product, you know you can trust it will deliver effective relief of your sleeplessness.
I received a sample of ZzzQuil Liquid in Warming Berry to test out. If liquid isn't your thing, ZzzQuil is also available in LiquiCaps. In case you didn't already know, Its the only over-the-counter medication available in both forms. The packaging made the directions easy to follow and within no time, I was sleeping peacefully. I woke up the next day feeling refreshed and ready to go. I'll for sure be using ZzzQuil again for those nights when I need a little extra help getting to sleep!
ZzzQuil is intended for adults and children 12 years of age or older. Its not habit-forming and safe and effective when used according to package directions. If you'd like more information about ZzzQuil, you can find it HERE or on their Facebook page!
If you find yourself having trouble with occasional sleeplessness and decide to try out ZzzQuil and tweet them at #ZzzQuilNight. They'd love to hear all about it!